Nitrile Rubber Sheet in Chennai
Pioneers in the industry, we are the best Nitrile rubber sheet manufacturers in Chennai, we offer the best Nitrile Rubber Thermal and Nitrile Rubber Acoustic from India.
Nitrile rubber insulation sheet made of closed-cell, elastomeric nitrile rubber that's why it is very flexible and versatile insulation. It is resistant to water vapour, oil and most acids due to its closed cell elastomeric insulation. The industry related to Insulation, air-conditioning, plumbing and Hvac Industries are those who use Nitrile rubber Insulation sheet widely. Contact us to get the best Nitrile rubber sheet manufacturer in Chennai
Nitrile Rubber is used in variety of applications like O-rings, Gaskets, printer's form rollers, oil seals, automotive transmission belts, hoses, V belts, Synthetic leather, disposable non-latex gloves and cable jacketing. We the best Nitrile rubber sheet manufacturer in Chennai use in the preparation of Adhesives or as pigment binder.
Nitrile rubber is safer and more resistant than natural rubber to oils and acids, and has more strength. Just because of that Nitrile gloves are used more than natural rubber gloves due to their puncture resistant nature.
Brouchure
Characteristics
Temperature range: -200 to +115 degree C
Resistance to Oil and Grease: Good
Odour: Negligible
Corrosion risk: pH7 (neutral)
Water Absorption: After 28 days max 0.9%
Resistance to Building Materials: Very Good
It adds more advantage than the Natural Rubber, which can get harden and lose its damping capability.
Other Advantages
1. Fights fungal growth
2. No health hazards will happen
3. Can be easily cleaned
4. Resistant to fire
5. High water vapour diffusion resistance factor
Closed Cell Thermal Application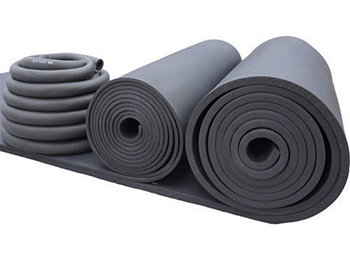 | | |
| --- | --- |
| Usage/Application | Duct, Pipe Thermal and Under deck Application |
| Packaging Type | Roll / Sleeves |
| Color | Black |
| Density | 40 - 60 Kg/m3 |
| Thermal Conductivity | 0.036 W/m K @ 0 Deg C |
| Temperature Range | 116 Deg C to -200 Deg C |
| Material | Class O & Class 1 |
| Brand | K-FLEX |
| FM Global Approval | Yes |
| Feature | Antimicrobial |
| Facings | Aluminium Foil,Glass Cloth (IC Clad),AL Clad,IN Clad |
| Thickness | 6,9,13,16,19,25,32 |
Open Cell Acoustic Application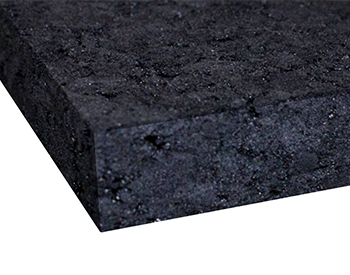 | | |
| --- | --- |
| Color | Black |
| Thickness | 10mm - 50mm |
| Density | 140 - 180 Kg/m3 |
| Material | Class 1 |
| Usage/Application | Duct Acoustic, Wall Acoustic & Floor Acoustic |
| Temperature | -200 Deg C to 116 Deg C |
| Packaging Type | Slab |